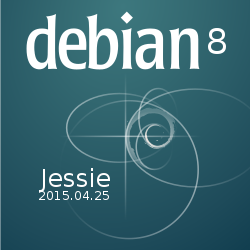 I upgraded my notebook to Debian Jessie now. I just had a few little problems, but most things worked very well. Due to systemd, the bootprocess is fast as hell. Actually I don't like systemd( because I think that the success of Unix/Linux has it's roots in the Unix-Philosophy) but it speeds up the boot-process immensely. I had to reinstall the virtualbox-packages. I am using the packages from the repository download.virtualbox.org and the dkms-module wasn't build correctly. I also compiled the 4.0.0-Kernel, and it works perfectly.
Problems:
conky. I am using a Theme which doen't work anymore. Maybe I can fix it..
wmTea. wmTea is a quite unknown TeaTime-Window-Maker-Applet. I think there might be a problem with the used libraries.
Shutdown-Process looks horrible on my system due to weird indents of the process-messages
Overall I am pretty happy with my new system and that the upgrade worked quite well.